We're a long way from the business intelligence equivalent of the MLP Pennant race, so don't count on it coming down to the "big four" vendors.
Neither Forrester Research nor BIScorecard used baseball terminology in their latest reports on the BI market, but the analogy is apt, and these pundits seem to be saying, "Hey, it's still August!"
Both reports place SAP's Business Objects unit, IBM's Cognos unit, Oracle and Microsoft in contention. But the rankings also place independents including SAS and MicroStrategy among the leaders, and they point to interesting wild-card possibilities including Actuate and QlikTech.
Forrester Shares Stats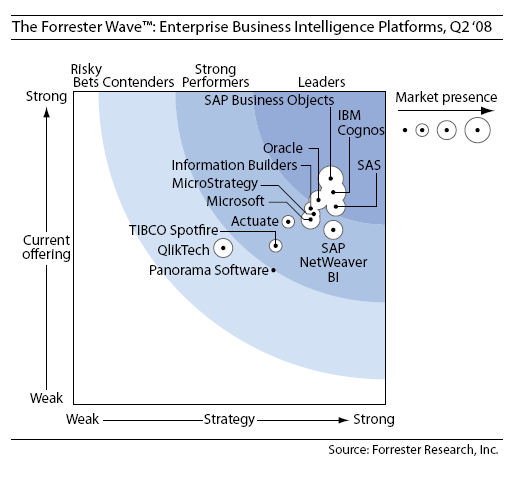 "The Forrester Wave: Enterprise Business Intelligence Platforms, Q3 2008,"
report, released July 31, rates a dozen BI products and vendors. SAP Business Objects, IBM Cognos, Oracle and SAS are in the "Leaders" wave (see diagram above). The second "Strong Performers" Wave features Information Builders, MicroStrategy, Microsoft, SAP NetWeaver BI, Actuate and TIBCO Spotfire, in that order.
One of the most notable characteristics of Forrester's latest rankings is that eight of the 12 vendors are in close proximity on horizontal "strategy" axis.
"The gist of this latest Wave report is that in terms of vision, all of the large BI vendors really 'get it,'" says analyst and report author Boris Evelson. "They understand that they have to be working on things like process-centric BI, analysis of unstructured data and linking BI to the [business user] workspace."
The biggest differentiation is on the vertical, product-focused "current offering" axis, which indicates progress toward fulfilling strategic vision. How does Forrester's Wave compare with Gartner's most recent "Magic Quadrant" analysis of BI, published in February? For one thing, Microsoft and MicroStrategy didn't make it into Forrester's more selective Leaders group, but Evelson says the biggest difference lies in the open ranking approach.
"The major difference between our Wave and other reports is that underneath the Wave there is a very detailed, open and transparent spreadsheet of our evaluation criteria," Evelson says. "Clients can change the weightings to customize the report" and use it to develop request-for-proposal and request-for-information documents.
The spreadsheet accompanying Forrester's Wave includes zero to five (weak to strong) ratings of 12 characteristics. Four of those ratings concern the current product offering, three assess vendor strategy and five ratings examine vendor market presence.
BIScorecard Focuses on the Products
The just-released BIScorecard Strategic and Product Summary, Q2 2008, report takes a more product-focused look at eight leading BI suites: BusinessObjects XI R2, Cognos 8.3, Information Builders Web FOCUS, Microsoft BI, MicroStrategy 8.1, Oracle BI Enterprise Edition and Essbase, QlikView and SAS Enterprise BI. Each product is scored (with green, yellow and red bubbles) along eight dimensions: Business Query/Reporting, Production Reporting, OLAP, Information Delivery, Dashboards, Spreadsheet/MS Office integration, Predictive Analytics, Administration and Architecture. Scores range from "Minimal/None" to "Excellent," based on analysis of 10 to 25 detailed features in each of these areas.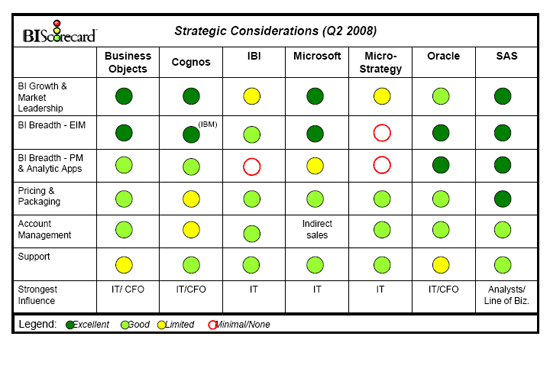 The report's product-by-product scorecard and vendor analyses are only available within
the full report
(which costs $895), but report author Cindi Howson has released a vendor-focused "Strategic Considerations" assessment (above) of seven out of the eight vendors covered in the full report (note: "EIM" stands for enterprise information management — ETL, data integration, etc. — and "PM" stands for performance management applications).
"Customers who make bigger investments and have a longer time horizon to deploy a solution will give greater weight to these strategic considerations," writes Howson in her report. "Customers who are making a smaller investment will give greater weight to current product capabilities."
Indeed, Howson's product and vendor Scorecards are markedly different, with, for example, MicroStrategy faring better in the product-level Scorecard than in the vendor strategic assessment above.
Advice to Would-Be Buyers
So what should would-be buyers take away from these latest reports?
"Customers who have good relationships and successful deployments with a BI vendor should not change products simply because their preferred ERP or database vendor acquired a competing provider," Howson advises in one of eight recommendations included in a free summary of the BIScorecard report . "All of the acquired vendors have committed to remaining application and database agnostic."
If a deployment has not succeeded, adds Howson, then perhaps it is time to consider opportunities for vendor consolidation. But she cautions firms not to invest in legacy products that are no longer the lead BI products.
"This applies mainly to Oracle Standard Edition, Oracle Hyperion System 9 BI+ — though not Essbase — SAP NetWeaver BI — though not BW — and [certain] Business Objects performance management modules," Howson writes. "While it appears vendors will support these legacy applications for years, the leading products will receive the majority of enhancements and technical support."
Forrester, meanwhile, cautions buyers to look beyond their accustomed understanding of BI around reporting and analytics, and to consider new OLAP tools and alternatives, dashboards, business activity monitoring, self-service BI workspaces and guided BI search tools.
"We are on the cusp of next-generation BI with different user interfaces, integration with process and rules, end-user self-service, alternative analytic DBMS technologies and many other innovations," Evelson writes.
So while most of the top BI vendors are talking a good game, keep in mind that we have a long way to go until the BI market's equivalent of October.