Top 5 Enterprise Applications Trends Of 2014
Top 5 Enterprise Applications Trends Of 2014
Here's a yearend toast to the top headlines in cloud, mobile, integrated marketing, embedded analytics, and software license management in 2014.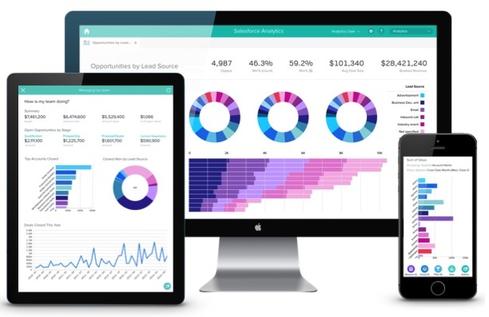 Salesforce's Wave Analytics Cloud ranks among the most important enterprise applications announcements of 2014.
In real estate, it's location, location, location. In enterprise applications, like CRM, human resources apps, marketing automation, and even ERP, it's now cloud, cloud, cloud.
OK, a few other topics did matter in 2014, like mobile apps, integrated marketing, embedded analytics, and a fresh look at software licensing. But all these trends are closely intertwined with the cloud movement. Mobile apps interface with cloud-based services. Marketing apps, now mashed up with sales and service, are invariably delivered via the cloud. Cloud-based calls to data and analytic services will bring contextual intelligence to apps. And the movement to per-user subscriptions in the cloud is triggering many companies to consider what on-premises applications they have installed, which ones they're actually using, and which ones they can retire as part of a software spend analysis.
[Want more on 2014 trends? Read Top 5 Big Data Trends Of 2014.]
Here, then, is a closer look at the enterprise application trends and headlines that grabbed our attention in 2014.
1. Cloud rules
Forget the old "core versus edge" cloud hedging by SAP and the "applications unlimited" (on-premises app) yarn from Oracle. Both of these enterprise applications giants saw the handwriting on the wall in 2013 and went all in on the cloud in 2014.
In SAP's case, it's a private, Hana-powered cloud for core apps like ERP (which isn't the kind of cloud most people expect), but the company also spent more than $9 billion in 2014 to add Fieldglass and Concur to its SaaS-based e-commerce business network. Oracle, meanwhile, is laser-focused on its clouds, and it only mentions the likes of Salesforce and Workday as competitors.
The reality, of course, is that the vast majority of enterprise apps are deployed on premises. But at user conferences this year -- such as Sapphire, Oracle OpenWorld, Microsoft Convergence, and others -- the discussions were heavily focused on new or expanded cloud apps and cloud-deployment options. Here are a few of the headlines that captured reader attention:
2. Marketing tech meets sales, service
The big marketing tech buys -- ExactTarget to Salesforce, Marketing Pilot to Microsoft, Eloqua and Responsys to Oracle, SeeWhy to SAP -- all went down in 2012 and 2013, but the integration work took time to bear fruit. In 2014, we saw marketing capabilities exposed in the context of sales and service, and sales and service transactions records and insights brought back into the campaign planning and execution mix. Consider these leading examples of integration:
3. Mobile-first gets real
Many applications vendors launched new or updated mobile apps -- embracing HTML5; introducing "consumer-grade" user interfaces; and letting users take actions, not just look up information. Others, notably Salesforce, went the extra mile and actually made it easier for companies to build and deploy their own mobile apps. Here's a taste of notable mobile announcements from 2014:
4. Analytics everywhere
Analytic apps (think Siebel) and application-embedded analytics have been around for a long time. The idea is to expose the business intelligence within the context of the business process, rather than forcing workers to open up separate BI apps. An internal banking application supporting various customer services, for example, might feature embedded dashboards or metrics showing the satisfaction level, loyalty, share of wallet, and risk tied to specific customers, so bank personnel cloud serve them accordingly. Sales apps featuring cross-sell and upsell recommendations are another example.
The biggest news in this vein in 2014 was the introduction of Salesforce's Wave Analytics Cloud. If Salesforce and others can deliver key insights and metrics within the context of mobile sales and service apps -- pulling in data from backend apps in the process -- it's going to have a big impact on the use of third-party BI systems and cloud add-on apps.
As SAP co-founder Hasso Plattner has observed, the separation of transactional and analytical apps is unnatural. The practice became entrenched decades ago only because the technologies available at the time couldn't handle both at once. Cloud, mobile, and in-memory capabilities are putting these worlds back together. Here's a sampling of notable analytic app, embedded analytic, and in-memory acceleration announcements in 2014:
5. Software licensing reexamined
Plenty of companies have had enough of spiraling software costs, so they're trying to figure out what they own and what they use with IT asset management systems and software license optimization software. Software audits are one big sore point. Complicated rules and gotcha terms are another. Organizations like the Campaign for Clear Licensing have also emerged to raise awareness of licensing issues and champion customer rights.
Rather than wait for audits and billing surprises, companies are increasingly using these management systems to bring license entitlements, installs, and actual software usage into sync. Customers, analysts, and vendors with experience share this advice on how to take control:
Our best advice for 2015? Take control of the legacy environment, envision a cloud- and mobile-enabled future, move out of maintenance mode, and embrace innovation. Happy New Year.
Apply now for the 2015 InformationWeek Elite 100, which recognizes the most innovative users of technology to advance a company's business goals. Winners will be recognized at the InformationWeek Conference, April 27-28, 2015, at the Mandalay Bay in Las Vegas. Application period ends Jan. 16, 2015.
Never Miss a Beat: Get a snapshot of the issues affecting the IT industry straight to your inbox.
You May Also Like
---