been in no rush to install Windows 8 or 8.1 on traditional laptops and PCs. Time will tell how customers react to still-evolving Windows 10, but for now, "there's a far greater willingness to bring these in," Hand says, gesturing to the Venue 11 Pro, which starts at $800.
Why are businesses more amenable to Windows 8.1 tablets than Windows 8.1 PCs? Noting that Windows 8.1 has finally started to take market share from aging Windows XP, I ask Hand if perhaps corporate customers are investing more in Windows touch apps. "A little less in touch, and a little more in separating different product sets," he replies. "Some tablets are laptop replacements that might have gone to Windows 7. But companion use has really been picking up."
He says that many enterprise customers use tablets for "snacking" -- that is, for staying connected to colleagues and projects in small bursts when they're away from the desk. An 8-inch tablet provides a better experience than a phablet for data-centric apps but is still portable enough to be carried most of the time, Hand says. "People have a tendency to log on a bit more, do a bit more with it."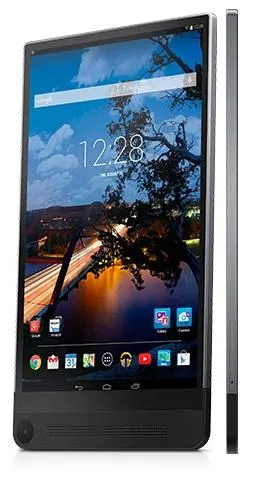 Hand dismisses the notion that tablets need to be much thinner -- a clear shot at Apple, though he never actually mentions Apple by name. As one of the first devices with Intel's new power-efficient Core M chips, the Venue 11 Pro 7000 is thinner than its predecessor, measuring a little over 10mm tall. "Could we get it thinner? Yes, but would there be any point? No," he says. Doing so would only marginally improve portability while also requiring the elimination of the Venue Pro's USB port. iPads don't have USB ports.
Proponents of cloud storage might dispute the USB's long-term importance for day-to-day tablet use. But even if USBs eventually go the way of optical drives, Dell has other, more innovative ideas in the pipeline. Hand says that Dell's Android-powered Venue 8 7000 tablet demonstrates how the company hopes to popularize new kinds of mobile productivity.
The 8.4-inch tablet boasts a gorgeous 2560-pixel-by-1600-pixel OLED screen and an ultra-slimness that lets it share the title of "world's thinnest tablet" with the new iPad Air 2. But its most distinctive feature is its depth-sensing camera, which uses several sensors and Intel's RealSense snapshot technology to measure spatial relationships among objects.
At first glance, the technology seems consumer-oriented; like Lytro cameras, the Venue lets users change focus after the shot is taken, for example. But Hand says the Venue 8 7000's camera will play into commercial opportunities as well, such as using tablets to improve shipping efficiency by more quickly and accurately measuring package dimensions.
Hand points out that even a modest uptick in efficiency, say 2% or 3%, could translate into substantial savings. After all, when airlines reduced flight weights by 45 pounds by replacing physical flight bags with tablets, they saved millions in fuel costs. Perhaps the Venue 8 7000 will help some companies to achieve similar savings, but first it has to hit the market.
First revealed two months ago at the Intel Developer Forum in San Francisco, the new Venue 8 was originally slated to hit the market this month. That plan has been scrapped, however, and Dell hasn't provided an updated delivery estimate.
Hand says he "saw some anomalies" when Dell ramped up Venue 8 production. The bugs, he says, would have caused some devices to decline in performance after a year or so of use. He adds he's made production mistakes in the past, and that with the new Venue 8, which he called a "leadership product," Dell won't launch the device "until it's absolutely as good as we can make it."
That moment might arrive in time for the holiday season or not until 2015. In the meantime, Dell has plans to include the camera in a range of upcoming devices.
"If you invest in something like this, you should probably be figuring out how to develop more products that use it. Otherwise you don't believe in it," says Hand, adding that Dell will integrate depth-sensing cameras into, not only tablets, but also desktops and laptops. Eventually, he said, the cameras will be able to handle sophisticated tasks such as generating a 3D-printable file from a series of photographs of a given object. After a point, Hand says, the appeal is less about the camera and more about the machine learning it enables -- about the insights that can be gained from combining depth information from thousands or millions of photographs.
When will we see devices that can do that? "We'll talk about future products when they come along," Hand says, laughing.
Apply now for the 2015 InformationWeek Elite 100, which recognizes the most innovative users of technology to advance a company's business goals. Winners will be recognized at the InformationWeek Conference, April 27-28, 2015, at the Mandalay Bay in Las Vegas. Application period ends Jan. 9, 2015.