iPhone Rumors: Samsung-Made OLED Displays, All-Glass Design
Samsung displays on Apple handsets? The two rivals may be partnering to install OLED screens on the next generation of iPhones. At the same time, an analyst writes that by 2017 the iPhone will have an all-glass design.
Archrivals Apple and Samsung may be forging an unlikely partnership that would see organic light-emitting diode (OLED) displays manufactured by the South Korean electronics giant fitted onto Apple's iPhone, according to a report in the Korea Herald.
The report claims Samsung's display unit is planning to open a dedicated production line for the screens in its A3 plant, which it will open in the second quarter of 2016 with an estimated production capability of 120,000 panels per month.
"Samsung will invest more than 10 trillion won ($8.7 billion) into the A3 plant to double its production capacity," Kim Dong-won, an analyst at Hyundai Securities, told the publication.
The advantages to OLED displays versus LCD displays is reduced thickness and improved picture quality. A November report in Japanese publication Nikkei said Apple would make the switch over to OLED displays in 2018.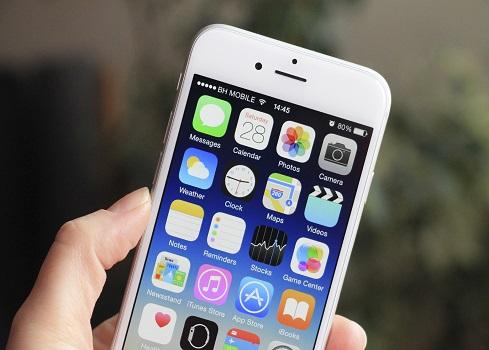 Another advantage to using OLED screens is that they also be bent and rounded to a certain degree, giving companies greater flexibility when designing devices.
Apple has built a secret research facility in Taiwan to experiment with and develop next-generation display technology, according to a report in Bloomberg.
The production lab, located in northern Taiwan, is dedicated to fabricating new display technologies for the iPad and the iPhone. It employs a staff of around 50 people, according to unnamed sources quoted in the article.

Are you prepared for a new world of enterprise mobility? Attend the Wireless & Mobility Track at Interop Las Vegas, May 2-6. Register now!
That's not the only rumor surrounding the latest edition of the iPhone. In an investor note from analyst Ming-Chi Kuo of KGI Securities, which was obtained by Apple Insider, Kuo wrote that next year's iPhone will sport an all-glass back.
The note also indicated Apple would adopt AMOLED technology for next year's iPhone displays and predicted the company would abandon its current strategy of a major smartphone refresh every two years, opting instead to offer consumers a major redesign this year and in 2017.
The reports concerning the iPhone's expected redesign and potential display evolution follow last week's rumors that the upcoming iPhone 7 would feature Smart Connector technology.
The Smart Connector, which debuted with the iPad Pro, can transfer data and power, meaning that accessories don't need their own batteries.
Leaked photos of what could be the latest iPhone shows the back of the device having a noticeably larger camera, with three small white dots at the bottom of the handset that could indicate the dock for Apple's Smart Connector technology.
The report from the Japanese blog Macotakara also said the iPhone 7 would sport the same dimensions as the current model, and reaffirmed that the new handset would ditch the 3.5mm headphone jack in favor of headphones that connect through the phone's Lightning port, which is also used to charge the iPhone.
Pressure is growing for the tech giant to deliver a truly impressive leap forward with the iPhone 7. Industry veteran Walt Mossberg wrote in a March 23 article entitled "The iPhone 7 Had Better Be Spectacular" that Apple's new iPhones and iPads are very nice, but "don't break much new technology ground."

Nathan Eddy is a freelance writer for InformationWeek. He has written for Popular Mechanics, Sales & Marketing Management Magazine, FierceMarkets, and CRN, among others. In 2012 he made his first documentary film, The Absent Column. He currently lives in Berlin. View Full Bio
We welcome your comments on this topic on our social media channels, or
[contact us directly]
with questions about the site.