Microsoft Office: 4 Changes, Explained
Microsoft maneuvers to keep Office on top, touting data analysis power, tweaking office 365, and more. What do the moves mean to you?
Microsoft Office is the default choice for many people thanks to its ubiquity, and the only serious option for those who need the deepest toolsets; it remains, in short, the productivity standard.
Even so, Office is costly and not available on all popular platforms. Many consumers, mobile-oriented users, and even some businesses have turned to free alternatives such as Google Docs, iWork, and OpenOffice. These options can't match Office's features, but if you're not a power user, why pay for a product when free ones are good enough?
Microsoft has combatted its freebie competition in a variety of ways. Office 365 represents a major shift from standalone licenses to cloud-based subscriptions. The approach allows Microsoft to continually push new features, which has resulted in more collaborative, agile, and data-adept Office products. It also turns customers into potentially perpetual revenue streams, something that can't be said of all those Office 2003 licenses floating around. At the same time, it can lower a company's IT costs due to the cloud's economies of scale. Microsoft's productivity line also includes Office Online, which is its browser-based response to free competitors, and new cross-platform products, most notably Office for iPads.
[Upgrading to the Windows 8.1 operating system? Read Windows 8.1 Update: 8 Tips to Avoid Headaches.]
In the last week, Microsoft has made some strategy and feature announcements that affect many of its Office products and are designed to appeal to everyone from data-crunching enterprise users to casual consumers. Will they give Office a boost? Let us know what you think in the comments section.
1. Office: the "UI for data"?
At an event this week in San Francisco, Microsoft CEO Satya Nadella called Office the "UI for data." What does this mean?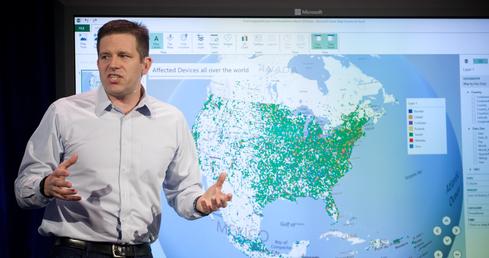 Businesses are collecting more data than ever, and as Internet of Things-themed technologies become more common, that data will grow at an exponential rate. Microsoft products can tie together SQL, Azure, Hadoop, and other tools to wrangle the data on the back end, and Nadella sees Office as the user-facing portal through which data is displayed and insights derived. Microsoft reps demonstrated how columns and rows in Excel can be translated into dynamic maps and graphs, sometimes in response to natural language queries. Nadella's message was that data should be accessible and useful to everyone, not just to data scientists, and that Microsoft wants Office to be the vehicle that democratizes the tools.
2. Office 365 Personal goes live.
Announced earlier this year, Office 365 Personal subscriptions are now available. Aimed at individuals, the product entitles the user to Office on one Mac or PC and one Windows-based tablet or iPad. Microsoft has confirmed that native Office apps for Android are in the pipeline, and Office 365 Personal will presumably cover these products as well.
Office 365 Personal has been widely interpreted as an enticement for iPad owners. Office iPad apps offer basic features for free, but to create and edit documents, a 365 subscription is required. 365 Personal subscribers get not only the newest Office software for $6.99 per month or $69.99 annually, but also 20 GB of OneDrive cloud storage. Microsoft still sells Office 365 Home
for $9.99 per month or $99.99 per year. It supports up to five PCs or Macs and up to five Windows tablets or iPads. The company offers separate packages for enterprises.
3. Office Online gets new features.
Microsoft's Web-based Office Online apps have always boasted stronger document fidelity than some competitors, which is important if you're collaborating with other Office users. But in features and usability, Office Online has only gradually come along. This week, Microsoft added a barrage of new features.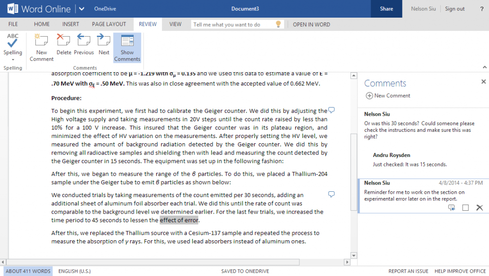 Word Online now allows comments during editing, rather than just in View mode. It also allows multiple users to make comments simultaneously. The Web app also supports inline footnotes, which allow users to insert footnotes without leaving their current context. Other additions include improved auto-number list tools, the ability to download documents as PDFs, better rendering of tables, and improved compatibility with Internet Explorer and Chrome PDF readers.
Excel Online now boasts Microsoft's Tell Me feature. Previously available in Word Online, Tell Me lets users ask how to do something, and then presents a list of relevant actions. Excel Online users can also create, edit, and delete comments, rather than just view existing ones. Other additions include the ability to reveal hidden columns and support for Excel workbooks that use Visual Basic for Applications.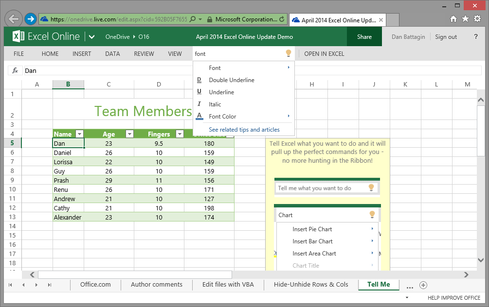 PowerPoint Online also now includes Tell Me. In addition, it boasts a new layout that makes the editing process more closely mirror the finished presentation. Other improvements include the ability to play embedded YouTube videos.
4. Microsoft throws Chrome a bone.
For the first time, Chrome users can launch Office Online apps from the Chrome App Launcher, bringing one-click simplicity to a process that previously entailed firing up the browser. Chrome users still don't have native apps like Mac, Windows, and iPad users do -- but the fact that Microsoft did anything to acknowledge Chrome users is noteworthy.
If you haven't noticed, Microsoft and Google haven't been on friendly terms lately. Microsoft's Scroogled campaign is reportedly winding down, but the company's TV ads still trumpet that Windows devices don't need to be online to be productive, a none-too-veiled (and somewhat inaccurate) swipe at Chromebooks. Google, meanwhile, has happily touted Chromebooks to disgruntled Windows XP users.
Emerging standards for hybrid clouds and converged datacenters promise to break vendors' proprietary hold. Also in the Lose The Lock-In issue of InformationWeek: The future datacenter will come in a neat package (free registration required).
Michael Endler joined InformationWeek as an associate editor in 2012. He previously worked in talent representation in the entertainment industry, as a freelance copywriter and photojournalist, and as a teacher. Michael earned a BA in English from Stanford University in 2005 ... View Full Bio
We welcome your comments on this topic on our social media channels, or
[contact us directly]
with questions about the site.