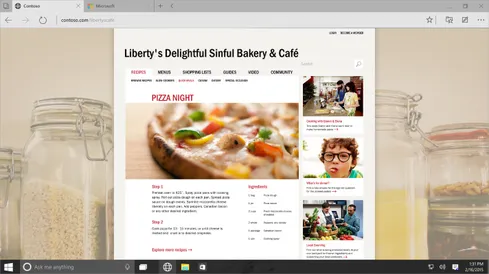 Internet Explorer's Demise: 7 Things IT Pros Should Know
(Click image for larger view and slideshow.)
This week started off with mobile news when Microsoft announced the general availability of mobile device management (MDM) capabilities for customers of all Office 365 commercial plans including Enterprise, Business, Education and Government. Built-in MDM features are available at no additional cost.
Security is at the center of this initiative, which was announced a few months after Microsoft brought MDM to Office 365. Users can manage their access to Office 365 data across mobile devices running iOS, Android and Windows. To keep data secure, Microsoft promises improved device management, conditional access and selective wipe.
Windows Insiders got some long-awaited news on Monday night, when Microsoft rolled out the newest build of Windows 10 to its fast ring of testers. The highlight was a first look at new browser Project Spartan, but other changes include updated Settings icons, a new Windows Hello-like app, and altered designs for the Calculator, Alarm, and Voice recorder apps, Neowin reports.
[Gmail Android App Connects Yahoo, Microsoft Accounts]
The new Windows 10 browser is a work in progress, but one that is markedly speedy and functional as it currently stands. Insiders willing to wait through a lengthy download process can try new features like Web Note and an improved Reading View that eliminates ads and unnecessary pictures for some text-heavy sites. If you're waiting to download, you can check out the browser in our hands-on demo.
Microsoft hardly gave the Project Spartan buzz a chance to die down before it announced the launch of its Surface 3, a tablet that combines the features and pricing of the Surface 2 and Surface Pro 3. The device starts at $499 and is currently available for pre-order with a shipping date set for May 5.
The Surface 3 has a 10.8-inch screen and 1920x1080 resolution. It will ship running Windows 8.1 but will be upgradable to Windows 10 when the OS launches this summer. Microsoft is also offering a free one-year subscription to Office 365 and 1T free cloud storage.
Will Microsoft's Surface 3 capture Apple's tablet market share as iPad sales face decline? We can't say for sure, but there's certainly a possibility.
Developers were happy to learn that Microsoft is streamlining the pricing and structure of its Visual Studio software suite. It plans to combine its Visual Studio Premium and Visual Studio ultimate into a single entity called Visual Studio Enterprise with Microsoft Developer Network.
Later in the week, Microsoft announced the launch of Office Lens on iOS and Android devices. The image scanning tool, which was introduced on Windows Phone last year, works with OneNote to record pictures of documents like menus and receipts that can be cropped and save for future reference.
In other interesting Microsoft content from this week, we learned how the company's HDInsight and Azure ML services are helping derive analytical insight from more than 77,000 table-top tablets located in restaurants across the country. The tablets allow diners to browse digital menus, place orders, play games, pay for meals and sign up for promotions, collecting data that is integrated into POS and loyalty systems.
Ziosk, the company that provides the devices, uses them to gather intelligence on diners' experiences and determine where improvement can be made. It uses a Microsoft SQL Server-based data warehouse and provides BI-style reporting. Azure HDInsight captures and aggregates transactional records and contextual information such as click paths for each device.
Attend Interop Las Vegas, the leading independent technology conference and expo series designed to inspire, inform, and connect the world's IT community. In 2015, look for all new programs, networking opportunities, and classes that will help you set your organization's IT action plan. It happens April 27 to May 1. Register with Discount Code MPOIWK for $200 off Total Access & Conference Passes.