Microsoft's Satya Nadella: What's Changed A Year Later?
As Microsoft CEO Satya Nadella looks towards a collaborative and holographic future, we reflect on his first year at the helm.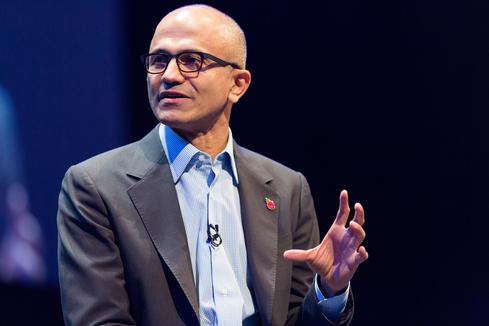 A year ago, Satya Nadella stepped into Steve Ballmer's shoes as Microsoft's third CEO, bringing new vision and ideas to a slow-moving company. Nadella's appointment sparked an exciting year of mostly positive change as he prepares the company for a more modern and collaborative future.
The Microsoft that exists today is a far cry from the Microsoft of February 2014, when Nadella kicked off his "mobile first, cloud first" strategy -- a slightly different direction from Ballmer's "devices and services" vision. His ideas were ambitious at a company thirsty for innovation and fresh perspective amidst rapidly changing technology.
Since he took over, Nadella has overseen the update of Microsoft's cloud platform and tightened its focus on better serving customers. He admitted that Microsoft made mistakes in Windows 8 and promised more activity in the ever-growing Internet of Things space.
Nadella's focus is evident in his plans for the upcoming Windows 10. With a cross-device design, Universal Apps platform and singular Windows Store, the new operating system lends itself to a mobile and cloud-savvy audience. Microsoft will offer free upgrades for Windows 10 during the first year of its availability, a smart move that will hopefully help to broaden its consumer audience.
[Bill Gates: Fears AI, Loves Dogs]
The newly released Office suite for iOS and Android tablets demonstrates Nadella's commitment to accommodating consumers regardless of which devices they use. Microsoft is acknowledging that it's not the top player in tech by makings its services more available. Its acquisition of email startup Acompli -- one of many in a recent wave of purchases -- led to the debut of Outlook for iOS and Android.
Its focus on reinventing productivity is one that promises to propel Microsoft into a mobile- and cloud-based future, and these sections of the business are already showcasing their potential. A recent quarterly earnings call reported that cloud computing drew in $5.5 billion during the most recent quarter; the Surface earned $1.1 billion.
One year isn't enough time to judge Nadella's long-term success. There are still plenty of questions that Microsoft needs to answer about Windows 10, and there's no guarantee that its new OS will put the company ahead of competitors.
So far, though, Nadella seems to be positioning Microsoft to better compete with competitors like Google and Apple. Let's take a look back on the changes Nadella made during his first year as Microsoft's CEO.
Kelly Sheridan is the Staff Editor at Dark Reading, where she focuses on cybersecurity news and analysis. She is a business technology journalist who previously reported for InformationWeek, where she covered Microsoft, and Insurance & Technology, where she covered financial ... View Full Bio
We welcome your comments on this topic on our social media channels, or
[contact us directly]
with questions about the site.