Microsoft Outlook, Office On iOS & Android: First Look
Microsoft has released Office for Android tablets and Outlook capabilities for iOS and Android devices. Here's a closer look.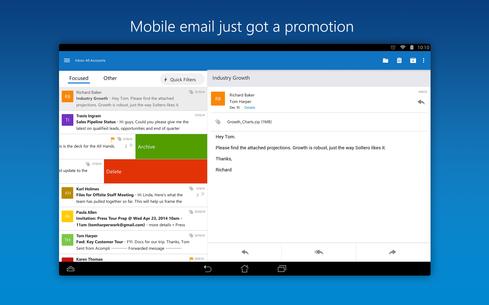 Earlier this week, Microsoft unveiled a number of updates to its mobile productivity apps. The new version of Office for Android tablets exited its three-month preview period on Jan. 29, the same day that Outlook apps for iOS and Android were released in full and preview versions, respectively.
Its latest announcements indicate that Microsoft is dedicating extensive effort towards boosting productivity before, during and after typical workday hours. Rather than sorting through emails during their commute and leaving the more complicated tasks to their PCs, professionals can schedule meetings and attach files on the go.
Both Android and iOS users had the opportunity to download a new version of Outlook. The app was released in full for iPhone and iPad. A preview is available to Android users, presumably because it still needs to undergo further testing.
The new Outlook is designed with new features that allow users to easily prioritize, delete and respond to emails. The updated calendar simplifies the process of finding time to coordinate meetings, interacting with hosts and attendees, and sending RSVP messages.
[Bill Gates fears AI, and more fun facts]
Jan. 29 was an especially exciting day for mobile Android users, who were able to download the complete version of Microsoft Office to their tablet devices. After testing the beta version of the app since November 2014, users can finally download the complete versions of Word, Excel and PowerPoint on the Google Play store.
The new app coordinates with OneDrive and Dropbox to provide users access to documents, spreadsheets and presentations that they create through apps available on the Office suite. Its Android-compatible apps are similar to their iOS counterparts; both are created from the same code base. With this release, Microsoft has officially made its Office suite available on all major mobile platforms.
Microsoft's new productivity apps sound like they're worth downloading, but when it comes to describing their many new features, words can only do so much. Click through to learn more about what's in store for the new Office and Outlook apps before trying them on your own device.
Kelly Sheridan is the Staff Editor at Dark Reading, where she focuses on cybersecurity news and analysis. She is a business technology journalist who previously reported for InformationWeek, where she covered Microsoft, and Insurance & Technology, where she covered financial ... View Full Bio
We welcome your comments on this topic on our social media channels, or
[contact us directly]
with questions about the site.