Facebook Feed Changes: 4 Ways To Declutter
Facebook's newest algorithm changes may leave you with a stream full of annoying posts. Regain control over your News Feed using these tips.
We all have Friends like them: the Facebook users who post incendiary political rants, the ones who upload endless family photos, and the Candy Crush pests. And, according to Facebook, as long as the posts continue to receive Likes and comments, they'll continue to appear high up in your News Feed.
Facebook announced plans this week to tweak its News Feed algorithm once again. This time, the changes will affect the types of posts you see and how often you see them.
According to the social network, you can expect to see articles higher up in your News Feed and other posts -- such as memes -- further down. Facebook will also resurface posts with recent activity, such as an ongoing conversation, and you can expect to see them higher up, too.
[Social media can be a marketer's best friend or worst enemy. Read more: 10 Worst Social Media Meltdowns Of 2013.]
Facebook said this update will help show "the right content to people at the right time," but you can still have a say in the content you see. Here's a look at some ways you can regain control over your News Feed.
1. Unfollow button
For Facebook users you dislike -- but haven't quite crossed the line into Unfriending territory -- you'll find Facebook's newest feature helpful. The Unfollow button, which is still rolling out to users, prevents a person's updates from appearing in your News Feed.
This button replaces both the Hide All button, which you could access by hovering over the person's post in your News Feed, and the Show in News Feed option, which you could find in the dropdown menu by clicking the Friends button on the person's profile. The new button does not Unfriend the person, who will never know you've opted out of that person's updates. It's a perfect passive-aggressive option without the finality of Unfriending.
There are two ways you can Unfollow a Friend. In your News Feed, you can hover over that person's post and click Unfollow in the dropdown menu.

Or you can navigate to that person's profile and click the button that has a checkmark next to Following. The button will change to Follow once you click on it.

You can do this with games and applications, too. If you no longer want to see updates about your friends' Candy Crush accomplishments, hover over the post, and click "Hide all from [game]."
2. Hide specific posts
Say one of your acquaintances gives birth and announces the baby's arrival on Facebook. You may have no interest in this post, but because of all the Likes and comments it's getting, it keeps appearing high in your News Feed. Luckily, there's an easy way to nix it.

Hover over the post, and click the dropdown menu. Click the option that says, "I don't want to see this." Facebook will remove it from your News feed and ask you why you don't want to see it.
3. Sort by list
Friend lists are an easy way to view posts only from people you want. Facebook automatically manages some lists by default. These may include a list for people you work with, family members, and people in your location. You may already have lists created for privacy and sharing purposes, too. You can find all your lists by clicking the Friends subhead on the left-side navigation. This is a good option if you prefer to see only a feed of the news organizations you follow and updates from certain friends, for example.
To create a list, click the "+ Create List" button at the top. Assign a name to your list, and then type the names of the friends you want to add to it. You may want to create a list for your best friends, for example.
To edit the members of any of your preexisting lists, click the list name and then Manage List, which you can find in the top-right of the next page. To the left of the Manage List option is Notifications. Click that button if you want to receive email or Facebook notifications when members of that list post something new.
When you're done creating your lists of Friends, they will appear on the left-side navigation under the header Friends. If you don't see this header, click the More tab on the bottom. When you click any of your Friend lists, your News Feed will show updates only from those Friends you selected -- an easy way to cut through Facebook's clutter. Facebook's algorithm changes will still apply to how it sorts these individual lists.
4. Unfriend
If your Friend has ignited one too many Facebook feuds, invited you to play one too many games, and posted one too many photos of her dinner, it may be time to cut the person loose.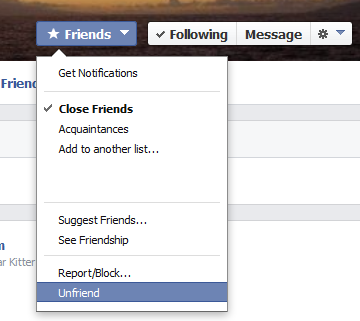 To Unfriend a user, visit that user's profile, click the Friends button at the top, and select Unfriend from the dropdown menu. Facebook does not confirm that you want to Unfriend the person, so be sure you want to do it first. Once you've Unfriended someone, that person will no longer be able to see your full profile -- depending on your privacy settings. That person will be able to see only the posts you share publicly.
IT groups need data analytics software that's visual and accessible. Vendors are getting the message. Also in the State Of Analytics issue of InformationWeek: SAP CEO envisions a younger, greener, cloudier company (free registration required).
We welcome your comments on this topic on our social media channels, or
[contact us directly]
with questions about the site.