Adobe launched a major update of its suite of design applications, Creative Cloud (CC) on Tuesday, including enhancements for Photoshop CC, Illustrator CC, Premiere Pro CC, and InDesign CC. It also announced new connected mobile apps for Apple iOS and Google Android smartphones and tablets.
As part of the mobile app upgrade, Adobe released Brush CC, Shape CC, Color CC, and Photoshop Mix on Android for the first time. The company also updated a wide range of its mobile apps for iPhone and iPad, including Comp CC, Photoshop Sketch, Illustrator Draw, and upgrades to the apps newly released on Android.
The June 16 upgrade spans a whopping 15 applications, including the introduction of Artboards for Photoshop CC, which helps creative professionals design cross-device user experiences in a single Photoshop document and preview them on a device.
Improvements to Adobe's Mercury Performance Engine, which powers CC applications, have boosted performance speeds for Illustrator CC and InDesign CC. Lightroom CC and Photoshop CC both gain the new Dehaze feature, which eliminates fog and haze from photos, including underwater shots.
Other applications that Adobe upgraded include Premiere Pro CC, After Effects CC, Dreamweaver CC, and Adobe Muse Web design software, among others.
Adobe also detailed major enhancements to Creative Cloud for enterprise, a solution for large commercial, education, and government customers. These include two new security capabilities: customer-managed encryption keys and a managed service hosting option, which offers dedicated storage behind a customer's firewall.
The enterprise edition also includes connections with Adobe Digital Publishing Solution (DPS), which lets organizations design and publish mobile apps without writing code, and Adobe Marketing Cloud, which helps streamline creative-to-marketing workflows and syncs with Adobe Experience Manager (AEM).
The updates to CC desktop and mobile apps are immediately available for download by members as part of their membership at no additional cost.
Membership plans are available for individuals, students, teams, educational institutions, government agencies, and enterprises. In addition, the small business package starts at $70 a month per license, which includes up to 100GB of cloud storage.
[Read about Adobe Document Cloud.]
The company also announced the debut of its stock content service, simply called Stock, which is available through Creative Cloud and designed to simplify the buying and using of stock content, including photos, illustrations, and graphics.
The curated collection of 40 million-plus high-quality images -- Adobe plans to add new stock content categories in the coming months -- has also been integrated into the latest releases of Creative Cloud applications, including Photoshop and Illustrator.
For example, designers can launch Stock directly within CC desktop software, add watermarked images to their libraries, and then access and work with images across multiple desktop and mobile tools.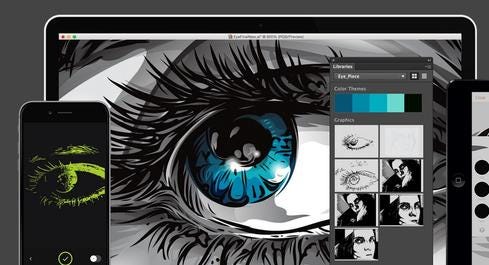 Adobe is also offering a special deal where buyers can save up to 40% on Stock when they add it to any Creative Cloud plan. Designers who sign up for a 10-images-per-month plan can roll over unused images for up to a year.
Stock, which is available in 36 countries and 13 languages, is priced at $9.99 for a single image, $29.99 per month for 10 images monthly (with rollover of unused images), and $199 per month for 750 images monthly, but this last option applies only to Creative Cloud members.