Amazon Echo: My First 10 Days
Amazon Echo crosses Siri with Sonos to create a "smart" speaker that can summon information as well as music. It's promising, but here's where it falls short.
There's much to like about Echo, Amazon's blending of a natural-language-savvy personal assistant and a connected speaker. But after 10 days of use, it strikes me as an experiment in progress and a first step toward bigger things.
Is Echo Amazon's answer to Apple Siri, Microsoft Cortana, and natural-language access to Google through Android devices? Or is this Amazon's hat in the ring of the connected speaker market, led by the likes of Sonos, Jawbone, and Bose?
My experiments confirm that Echo doesn't really match either comparison, but this hybrid device just might establish a category all its own, assuming Amazon can deliver on its promise to add more services and capabilities.
[Want more on the latest devices? Read CES 2015 Preview: 8 Hot Trends.]
Amazon is being rather mysterious about its intentions for Echo. For starters, the device was introduced with an invitation-only release on November 6. Limited-time pricing was set at $99 for Amazon Prime members and $199 for non-members, though that pricing still stands at this writing.
I'm a Prime member, so $99 didn't seem like a budget buster. I was also intrigued by the Amazon video showing a family peppering Echo with questions and requests: Alexa: Play rock music … Alexa: What time is it? ... Alexa: How tall is Mount Everest? ... Alexa: Add wrapping paper to my shopping list.
Echo uses seven built-in microphones to continuously listen for a "wake word" -- in this case, "Alexa" -- and you can follow that with a variety of questions or commands. With all those mics, Echo can hear you from just about anywhere in the same room without your having to shout. If you're too far away you can speak into Echo's remote or use its controls to advance to the next track or turn music up or down.
Behind the scenes, your requests and questions are connected with music-streaming services or online information sources such as Wikipedia. Echo confirms each request or responds to your questions in a pleasant, female voice. "Rock music" … "It's 12:34" … "Mount Everest's height above sea level is 29,029 feet, 8,848 meters" … "I've put wrapping paper or your shopping list."
The "request an invite" sales approach is the first sign Echo is an experiment for Amazon. I didn't hear back on my request for more than a month, suggesting Amazon is manufacturing based on accumulated orders. Perhaps the caution is due to the stinging failure of the Amazon Fire Phone, which fell well short of sales expectations last year.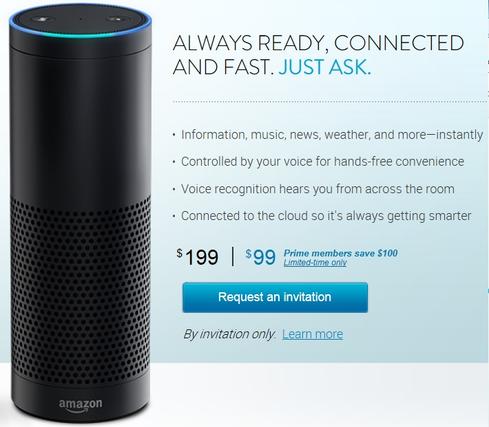 Solid and simple
My first impression of Echo was the heft of the box when it finally arrived. Inside the black, unmarked box was the cylindrical, 3.27-inch-around by 9.25-inch-high tower, along with a palm-sized 1.5-inch by 5.5-inch remote. The solid-feeling, black plastic tower houses a 2.5-inch woofer and 2-inch tweeter. Judging by the tower's two-pound-plus weight, both speakers have hefty magnets.
Setup was simple. You download and use the Echo App (for Android, iOS, or Amazon Fire devices or desktop browsers) to interactively configure access to your WiFi network, enable location services, and register the device to your Amazon account. When the light ring atop the tower turns blue, Echo is ready to take your requests.
There's Echo, the speaker tower with built-in microphones, and then there's the cloud-based, voice-interactive service that runs on Echo. My first disappointment was learning that you can't give the service a unique persona -- at least not yet. I wanted to call it "HAL" and give it a disturbingly calm, male voice -- à la 2001: A Space Odyssey. Alas, you can only choose between "Alexa" and "Amazon" as the wake word (though Amazon says it's considering more options), and you're stuck with one, ever-polite female voice. I stuck with "Alexa," but she's got nothing on "Samantha," the sexy operating system given voice by Scarlett Johansson in the movie Her.
It's pretty easy to imagine Amazon adding Alexa to the next Fire Phone. I asked her for local weather and news updates, as suggested in the Echo app. The service uses text-to-speech capabilities to recite "Flash Briefings" from sources including Associated Press, NPR, and the BBC. You can customize these briefings to include top stories, US news, world news, business, sports, entertainment, tech, and more.
You can ask ad-hoc questions, such as, "How do you spell onomatopoeia?" Alexa got that last question right, but it's easy to stump her, particularly with topical questions. Alexa had no answer for "Who won the 2014 Major League Baseball World Series?" or "Who won Sunday's Dallas Cowboys versus Detroit Lions football playoff game?" Apple's Siri also missed that recent football trivia question, but it nailed the World Series question and even noted the score of the last game between the winning Giants and the Royals.
When Alexa can't answer a question, it responds with a variation on: "Sorry, I don't have the answer to that question, but I've added a Bing search to the Echo app." Checking this long list, Alexa usually interpreted my voice correctly, but it just wasn't set up to retrieve the desired information. It's best suited to retrieving spellings, definitions, or facts related to famous people, dates, and places: What's the capital of Spain? ... How many people live in New Orleans? ... How many kilometers in a mile? What was Bruce Springsteen's first album? You get the idea.
Alexa can also tell jokes, but let's just say it shouldn't quit its day job.
Limited personal assistance
If Amazon intends to embed Alexa in a phone, it's going to have to link it to email, calendaring, and messaging services. Echo isn't a personal mobile device, so don't expect these routine smartphone capabilities. Alexa also can't retrieve maps, offer directions, or answer questions such as, "What's the number for Cousin's Pizza in Norwood, N.J.?" Siri recited that number in a flash, so I wasn't about to open the Echo app and search Bing results. Siri and Cortana also let you dictate and send texts and email messages, which is not something Alexa can handle.
Alexa can set timers and alarms, but only one timer and one alarm at a time, and you're limited to requests within the next 24 hours. There's no calendar
function, so you can't set an alarm for, say, every morning at 6:00 a.m. Alexa puts requests for appointments or reminders that are more than 24 hours in advance on your "to-do" list, which has no sense of time. You won't get reminders and you can't sync these reminders with your Exchange/Outlook, Apple, or Google calendars.
The timer function is handy in the kitchen, where your hands are often busy with pots, pans, and messy preparation. Echo's built-in mics are sensitive from quite a distance, but one night while grilling chicken, using the range hood fan, and playing music all at the same time, my request for a "two-minute" timer was interpreted as "10 minutes." Alexa repeats all timer and alarm requests so you know if it got it right, but between the fan noise and the music, I didn't hear the error. I finally caught on, but not before drying out the chicken.
More than music
If Echo succeeds, it will be on the strength of its blend of playing music and radio, setting alarms and timers, and answering common questions all with the ease of voice command. I had never used the Amazon Music app before buying Echo, but it's the default music service for Echo, along with the iHeartRadio and TuneIn radio apps.
[Want more on the latest devices? Read CES 2015 Preview: 8 Hot Trends.]
Amazon says it plans to add other music streaming services "in the future," but I'm guessing it will take its sweet time in order to favor its own services. The Amazon Music app can suck in your entire iTunes library, and if you're a Prime member, you also get free access to lots of playlists. Echo adds the convenience of voice commands: Alexa: next track; Alexa: louder; Alexa: softer; Alexa: stop; Alexa: Play Coffee Shop Indie playlist.
I was already experimenting with Pandora and Spotify before buying Echo, but access to Amazon Music with free Prime Music playlists made it easy to forego paid access to Pandora. Spotify can't run on the Echo App as yet, but you can connect to Echo via Bluetooth and use the Spotify app (or any other service) as you would with any Bluetooth speaker.
Comparing sound quality, Echo sounds good, but my Jawbone Big Jambox sounds better, with better clarity, surround effects, and less hiss at high volume. My Sonos 1 speakers sound better still, mainly because they can be paired to play in stereo. You can also set up Sonos speakers in every room in your house, syncing all speakers or playing different playlists in different rooms. Echo is just one, isolated speaker that's adequate for a midsized room.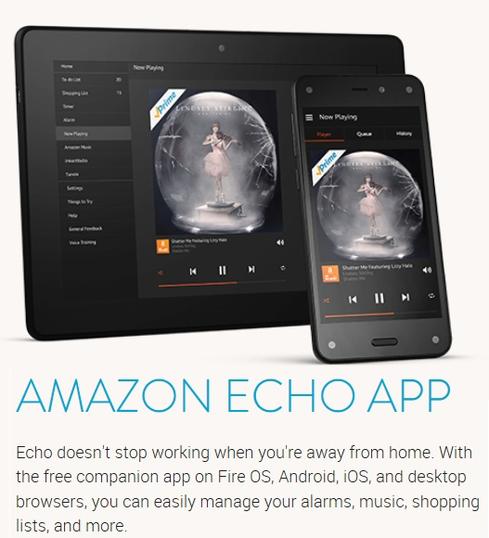 A big play for Echo -- but one I didn't explore -- is buying music or merchandise through Amazon using voice commands. It's obvious what these options are all about. If you like one-click buying, you might appreciate "buy it" requests via Echo. You can also set up separate Echo users with separate Amazon accounts, but I didn't go there.
Echo potential
Amazon can take Echo and the Alexa service in a lot of directions, but for now it's a blending with limits as well as potential. The speaker isn't the best available, but it's more than adequate for listening to music, weather, news, and streaming radio. Alexa is limited as a personal assistant compared to Siri and Cortana, but the voice recognition is reliable and Amazon is using Echo as a training platform, improving accuracy (and, hopefully, query capabilities) as it gains experience.
Many expect Alexa to show up in the next generation of Amazon Fire Phones. CEO Jeff Bezos has said all along that phones are a long-term play for Amazon. If Echo helps Amazon develop natural-voice services, grab a slice of the connected-speaker market, and gain more Amazon Music users, it just might be a three-way success. That's the kind of long-term investment Amazon is known for.
For now, Echo V1 will live in my kitchen, serving up news and weather updates, setting timers, answering stray questions, and playing music and the radio at my family's command.
Get the latest information to migrate your systems, services, and applications to the next level at Enterprise Connect. Cisco, Microsoft, Avaya, and Oracle will lead the keynote lineup. Thought leaders from enterprises and vendors will cover the full range of platforms, services, and applications that will simplify your migration to next-gen communications and collaboration systems. Register for Enterprise Connect with code DIWKAXE to save $100 off the early-bird rate. It happens in Orlando, Fla., March 16 to 19.
Doug Henschen is Executive Editor of InformationWeek, where he covers the intersection of enterprise applications with information management, business intelligence, big data and analytics. He previously served as editor in chief of Intelligent Enterprise, editor in chief of ... View Full Bio
We welcome your comments on this topic on our social media channels, or
[contact us directly]
with questions about the site.