Space X, Hubble, Coffee: The Cost Of Doing Business In Space
Space is expensive, dangerous, and easy to get wrong. This week, news about Space X, the upcoming Hubble anniversary, and the price of astronaut coffee shows why we should think hard about future projects.
As they say, close only counts in horseshoes and hand grenades.
In space flight, close means a violent explosion and a return to the drawing board. So it went with Space X's CRS-6's attempt to land a reusable rocket on a platform in the ocean. For a brief moment, the rocket seemed to settle on the barge, then it toppled and exploded.
It almost looks human as it is struggling right at the end to compensate for the bad angle. It seems to touch down and it looks like it might just hold its balance. If it had arms you know it would have been windmilling them to try to stay up, and then sadly it goes down and explodes.
It is easy to look at the explosion and the failure of the previous attempt of CRS-5 and think the entire mission was a failure. Space X is doomed. Elon Musk is a fraud. Let's just pack up and stop sending things into space. We'll spend the money on feeding the planet or world peace, or even new Air Jordan's for every person on the planet.
But you have to remember a few things. The mission was to resupply the International Space Station, which it has done. The secondary mission was to try to recover the first stage of the rocket for quick redeployment. That was the icing on the cake.
When a multi-stage rocket lifts off, it uses the rockets of the first stage to get off the ground. At some point the stage separates from the rest of the rocket and the next stage takes the rocket further. In the case of Space X, this rocket has two stages. Traditionally, when a rocket separates, the stage falls into the ocean or some other place that avoids hitting humans. What Space-X was trying to do was land that stage safely back on earth entirely intact.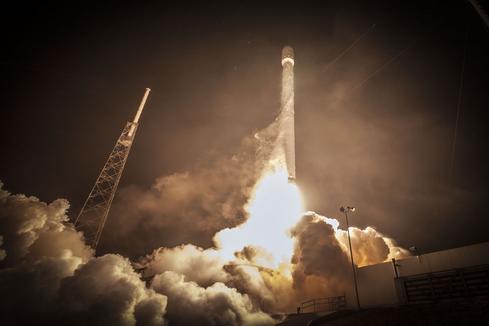 This saves money -- fewer rockets to build -- and time, specifically less construction and shorter recovery time to find the rocket and ready it for re-use.
The cost of a flight like this is about $57 million. And the flight will bring about 4,300 pounds of supplies to the International Space Station. That's about $13,000 per pound of supplies on the station. Some estimates of the Space Shuttle's costs range as high as $27,000 per pound, depending on how much administrative cost you want to assign to it.
If Space X could routinely reuse its stages, it could slash the price of cargo in space immensely.
This all looks especially interesting considering that in 1972 Richard Nixon funded the Space Shuttle program with the idea of reducing the cost of cargo to space to $1,000 per pound, an amount we've never come close to attaining. The shuttle was supposed to make 24 flights per year -- instead of the five it sometimes reached -- and make space so cheap that smaller companies could afford to do experiments and send satellites into space.
It never happened.
So while Space X didn't perfect the landing yet, it is getting close.
If you want to make fun of a failure, I've got one for you instead. With the Hubble Space Telescope reaching its 25th anniversary, everyone is getting ready to celebrate. But as Science 2.0 points out, Hubble's successor, the James Webb Space Telescope, is a massive failure that shows just how expensive space can be.
The James Web Space Telescope is a beautiful concept. The advantage of the Hubble was that it was
beyond the Earth's atmosphere, so it could see better than ground based telescopes. Webb is going to do it one better and go 1 million miles from Earth -- instead of Hubble's 375 miles. It will deploy a sun shield so it can see stars more than 1 billion light years away, and see them with a broader spectrum of frequencies.
It all sounds wonderful until you find this out:
It is 900% over budget, 10-years late, and no one is sure if it will ever get done. And let's say it is done. Does everyone remember when Hubble was considered a budget failure with a bad mirror? Hubble launched seven years late with multiple problems and ultimately cost $2 billion, when it was originally funded at $400 million. The only thing that saved it was expensive shuttle missions with multiple repairs.
How do you fix the Webb if it has similar problems when it is one million miles away?
Certainly, Elon Musk's Space X capsules can't get there, even if they can land on a little barge in the ocean. Do you see a pattern here?
For billions of dollars over budget you can have a space shuttle that never reduced the cost of cargo in space and never become the reliable multiple-use vehicle it was supposed to be.
For billions of dollars over budget you can have a Hubble Space Telescope with multiple problems that was supposed to solve the mysteries of the origins of the galaxy, but needed to be replaced by Webb.
For billions of dollars over budget you might have Webb, which may or may not work, and may or may not ever be finished.
Or you can lay off Elon Musk for not quite landing a stage of a rocket for the first time ever safely back on Earth to use again quickly. Since he's doing the most so far with the least, the Geekend calls this a success, bordering on a grand success. He's learning lessons in front of the world, and some people are making fun of him.
If you don't think Space X is a success yet, let me offer one more thing we can all relate to. One of the things that CRS-6 delivered to the International Space Station was the world's first space Espresso machine. Yup, talk about your Star-bucks. Developed by Lavazza and Argotech, the machine makes coffee that tastes just like the stuff on Earth.
You have to remember, most coffee-making systems use gravity in some way or another. Water is pushed or it falls over the coffee to pull the flavor out of the ground beans. Doing that in space isn't easy. They even had to redesign the coffee mug to make it work in space.
I don't know about you, but space seems a lot better with a morning cup of coffee. I bet our astronauts will be a lot more productive. But I'm not sure I'd want to do a spacewalk hopped up on a double espresso. Let's hope they don't get the jitters.
Of course, I'm being a little hard on NASA and a little easy on Space X.
There's room for both big and little projects in space. But one thing we're really learning from the commercial space experiment is that small, attainable goals at smaller prices that lead to more success are a good thing. And honestly, NASA should know this. We got to the moon with very methodical experiments in just that. But somewhere during the shuttle program, NASA's mandate changed. Instead of beating the Russians to the moon at all costs, the game changed to being all about controlling costs and they failed to adjust.
Space X is helping to inject a little sense into space, and it is long overdue. That's a success, and it will make it all the sweeter if CRS-7 successfully lands its first stage on a barge as planned when the group tries in June, again cutting the cost of putting cargo in space.
Attend Interop Las Vegas, the leading independent technology conference and expo series designed to inspire, inform, and connect the world's IT community. In 2015, look for all new programs, networking opportunities, and classes that will help you set your organization's IT action plan. It happens April 27 to May 1. Register with Discount Code MPOIWK for $200 off Total Access & Conference Passes.
David has been writing on business and technology for over 10 years and was most recently Managing Editor at Enterpriseefficiency.com. Before that he was an Assistant Editor at MIT Sloan Management Review, where he covered a wide range of business topics including IT, ... View Full Bio
We welcome your comments on this topic on our social media channels, or
[contact us directly]
with questions about the site.