Tesla Updates Autopilot Software, Moves Closer To Self-Driving Cars
Tesla is updating its self-driving car software to add more advanced capabilities, but drivers are still advised to keep their hands on the wheel.
Hot on the heels of the debut of the Model X Electric SUV, Tesla announced the launch of its Autopilot Version 7.0 software, which boasts a range of new active safety and convenience features designed to work in conjunction with the automated driving capabilities already offered in the company's Model S sedan.
However, the company advises drivers not to take their hands off the wheel just yet.
Autopilot allows the Model S to steer within a lane, change lanes with the tap of a turn signal, and manage speed by using active, traffic-aware cruise control.
Digital control of motors, brakes, and steering is designed to help users avoid collisions from the front and sides, and to prevent the car from wandering off the road.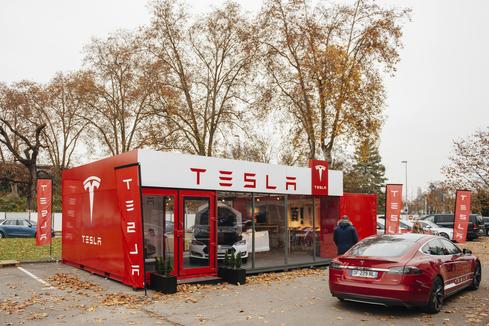 The software also gives the car the ability to scan for a parking space, alert the driver when one is available, and parallel-park the vehicle on command.
A popular YouTube video from auto blog Jalopnik shows one Tesla driver sitting back with his hands off the wheel while the car speeds up, slows down, and even changes lanes in busy Manhattan traffic.
Even with these features, Tesla CEO Elon Musk cautioned drivers that the software is still in beta mode and told owners to keep their hands on the steering wheel for the time being.
"We're being especially cautious at this stage so we're advising drivers to keep their hands on the wheel just in case," Reuters reported Musk as telling the media Oct. 14 at Tesla's Silicon Valley headquarters. "Over time there will not be a need to have your hands on the wheel."
The autopilot system involves four different feedback modules, including a camera, radar, ultrasonics, and GPS.
In addition, these mutually reinforcing systems offer real-time data feedback from the Tesla fleet already on the road, allowing the system to continually learn and improve upon itself.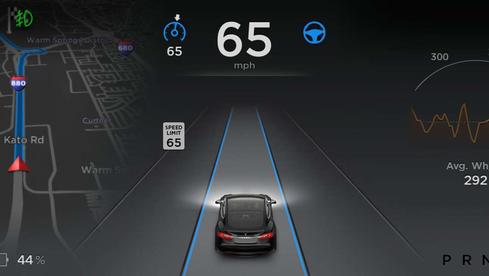 "The whole Tesla fleet acts like a network. When one car learns something they all learn it," Musk said, according to Reuters. "As more people enable autopilot, the information about how to drive is uploaded to the network. Each driver is effectively an expert trainer in how the autopilot should work."
In October 2014, the company began equipping Model S with hardware to allow for the incremental introduction of self-driving technology, including forward radar, a forward-looking camera, 12 long-range ultrasonic sensors that are positioned to monitor an area 16 feet around the car in every direction at all speeds, and a high-precision digitally-controlled electric-assist braking system.
[Read what Elon Musk had to say about Apple and German carmakers.]
"We will continue to develop new capabilities and deliver them through over-the-air software updates, keeping our customers at the forefront of driving technology in the years ahead," according to the company's new blog post this week. "While truly driverless cars are still a few years away, Tesla Autopilot functions like the systems that airplane pilots use when conditions are clear."
In September, the company took the wraps off its long-awaited Model X, a sport utility vehicle that features advanced safety features, Falcon Wing doors, and seating for up to seven passengers.
The Model X also continually scans the surrounding roadway with camera, radar, and sonar systems, providing real-time feedback to help avoid collisions.
Nathan Eddy is a freelance writer for InformationWeek. He has written for Popular Mechanics, Sales & Marketing Management Magazine, FierceMarkets, and CRN, among others. In 2012 he made his first documentary film, The Absent Column. He currently lives in Berlin. View Full Bio
We welcome your comments on this topic on our social media channels, or
[contact us directly]
with questions about the site.