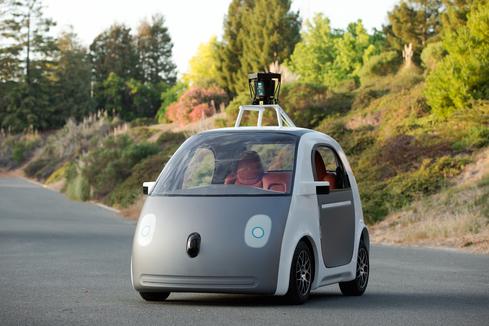 Google, Tesla And Apple Race For Electric, Autonomous Vehicle Talent
(Click image for larger view and slideshow.)
Apple captured the tech world's attention and imagination March 21 with another one of its signture press events. Monday's main event at the company's Cupertino, Calif. headquarters unveiled, as predicted, a new iPhone, iPad Pro, Apple Watch bands, iOS 9.3, and updates to tvOS.
"Let us loop you in" said the invitation Apple sent to attendees in early March. The cryptic message was tougher to decipher than "Spring Forward," which marked the invitations for its Apple Watch event one year ago.
CEO Tim Cook closed the event by mentioning it would probably be the last in the Town Hall theater at the company's Cupertino, California headquarters, which also hosted the iPod launch. In 2017 and beyond, announcements will take place at the new "spaceship" campus. Perhaps the invitation's message was a reference to Apple's current address, One Infinite Loop.
Prior to today's event, the rumor mill churned with predictions of products and services we'd see unveiled. A smaller and cheaper iPhone SE, iPad Air Pro, and iOS 9.3 were among the most popular expectations and all took the stage. Let's take a closer look at what was unveiled.
Environmental Projects, CareKit
Cook kicked off the event by reminding the audience how Apple, which turns 40 this year, will not back down in its legal battle with the FBI.
"The iPhone is an extension of ourselves," he emphasized. "We need to decide as a nation how much power the government should have over our data and our privacy."
He then brought Lisa Jackson, Apple's VP of Environment, Policy, and Social Initiatives, onstage to discuss environmental efforts. Jackson announced 93% of Apple operations worldwide are running on renewable energy and described a new project called "Liam," a robot that separates iPhone components for recycling.
COO Jeff Williams followed to discuss the evolution of ResearchKit and launch of a new initiative called CareKit, an open-source framework for building apps to help people be more proactive about their health. One app, for example, lets patients record health stats after surgery and share it with a doctor to create more personalized recovery plans.
Apple Watch, TvOS
Next up was Apple Watch. Cook noted one-third of Apple Watch owners regularly change their Watch bands, a segue into his announcement of new band colors for Apple Watch Sport and new woven nylon Watch bands. The cost of Apple Watch is also dropping to a starting price of $299, he continued.
[Apple Watch turns one: What has changed in a year?]
In an update available today, Apple TV is getting new features including Siri for the App Store, Live Photos, access to iCloud Photo Library, and the option to organize apps on the home screen. Dictation makes it easier for users to enter text onscreen.
iPhone SE
Apple VP Greg Joswiak introduced the iPhone SE, a smaller and cheaper iPhone targeting new iPhone owners. Over 30 million four-inch iPhones were sold in 2015, he emphasized, illustrating the demand for a smaller form factor.
The iPhone SE has a 4-inch screen and aluminum casing. It comes with a 64-bit A9 chip and integrated M9 motion coprocessor, so you can say "Hey Siri" to prompt the digital assistant. It has a 12MP camera, 4K video recording, TouchID, Secure Enclave, and NFC for Apple Pay.
Prices start at $399 for the 16GB model and hit $499 for 64GB. Orders start March 24 and shipping begins March 31. Apple aims to have the iPhone SE in 100 countries by the end of May.
iOS 9.3
Joswiak also demoed the new features in iOS 9.3, the latest version of iOS, which is available for download today.
These include Night Shift, which automatically shifts the iPhone's lighting to warmer tones toward the end of the day. The idea is to make the lighting more natural, since the blue light typically emitted by iPhones can interfere with sleep quality.
Other updates include the ability to protect Notes with a fingerprint passcode, app suggestions to bring more data into the Health app, updates to music and apps for CarPlay, and the ability to browse top stories and editor's picks in Apple News.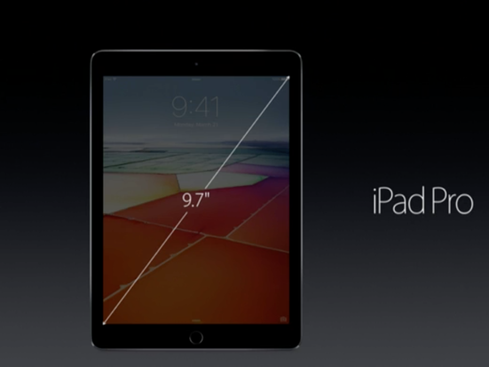 Smaller iPad Pro
The last product announcement was a new iPad Pro with a 9.7-inch screen, weighing in at less than one pound. It's a more compact version of the massive 12.9-inch tablet introduced last year.
The iPad Pro screen is 40% less reflective than the iPad Air 2 display, 25% brighter, and promises lower reflectivity. A new TrueTone display uses sensors to detect the ambient color temperature, and shifts the display to match.
The smaller iPad Pro has a A9X chip and MP motion coprocessor to support "Hey Siri". Apple is also introducing new accessories including a lightning SD card reader and USB camera adapter, which also contains powered USB for external devices like microphones.
Apple is marketing the iPad Pro as the next step for Windows PC users. Over 600 million PCs in use today are over 5 years old, said Phil Schiller, Apple's SVP of marketing, and many people who would switch to iPad Pro are coming from a Windows device.
Prices for the smaller iPad Pro are as follows: $599 (32GB), $749 (128GB), and $899 (256GB). Apple also updated the iPad Pro lineup to include a 256GB model and lowered the price of iPad Air 2 to $399. Orders for the smaller iPad Pro start March 24 and the device will ship March 31.