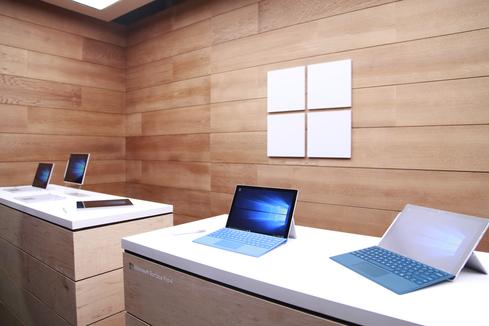 Surface Pro 4, Surface Book, Lumia 950: Microsoft's New Hardware Push
(Click image for larger view and slideshow.)
Microsoft has lost the smartphone wars, but the company can't seem to admit that to itself just yet. The new Lumia devices announced Oct. 6 are compelling in their design and powerful features. Sadly, no one will buy them and Microsoft's efforts to compete against Apple and Google have largely gone to waste.
Windows Phone holds onto a barely-there 3% of the smartphone market, with Apple's iOS at about 14% and Google's Android at about 83%. Microsoft may have convinced 110 million people to install Windows 10 on their PCs, but Google has 1.5 billion daily Android users in its pocket.
The Lumia 950 and Lumia 950 XL are truly nice smartphones. Microsoft did a great job pairing good-looking hardware with the right set of specs when those are compared to flagships from Samsung, LG, and Apple.
Screen size is the biggest differentiator between the two. The 950 has a 5.2-inch quad HD screen and the XL has a 5.7-inch quad HD screen. (That's the same size/resolution as Samsung's Galaxy S6 and Note 5, respectively.) The 950 relies on a hexa-core Snapdragon 808 processor, while the XL uses an octa-core Snapdragon 810. As expected, the XL has a larger battery at 3,340mAh compared to the 950's 3,000mAh power cell.
Beyond these specs, most aspects of the phones are the same.
They share 20-megapixel main cameras, 5-megapixel front cameras, exchangeable rear covers, standard sensors and wireless networks, 32GB of storage with memory card support, and of course the Windows 10 Mobile operating system. Windows 10 Mobile's killer feature is called Continuum, and -- wait for it -- it turns the phone into a full PC. (Anyone remember PocketPC?)
Put them up against any of their Android or iOS rivals, and the Lumia 950 and 950 XL will hold their own, at least from a hardware perspective.
So what's the problem? Microsoft's retail strategy -- or lack thereof.
The Lumia 950 and 950 XL will go on sale in November, hopefully before the holiday shopping season kicks into high gear. You won't find them in stores. AT&T is the only US carrier to voice any support for these phones, and so far it is only committing to the smaller Lumia 950. Not a single carrier has said it will sell the larger XL. Without any shelf space in Sprint, T-Mobile, and Verizon shops, the 950 and 950 XL hardly have a chance at all. The vast majority of smartphone shoppers in the US buy their phones at carrier-run stores. If they're not in stores, the 950 and 950 XL will have almost zero visibility with consumers. (Microsoft plans to sell the phones directly to people via its website, too.)
[Read about the roll out of Android 6.0.]
The Lumia 950 and 950 XL will face the same challenges in front of Google's Nexus 6P and 5X: Fans of the platform will seek them out, but regular people will ignore them completely.
How, then, does Microsoft plan to sell these phones? Microsoft talked about enterprise hardware packages that include a Surface Book or Surface 4 Pro and the Lumia 950/XL. It is banking on IT departments to support its larger hardware strategy and include handsets almost as an afterthought.
The Lumia 950 and 950 XL are solid smartphones that will surely make their owners happy. Without carrier support, however, they may be the last we see from Redmond.