The keynote presentations at this year's Apple Worldwide Developers Conference (WWDC) were lengthy, but that was expected given the number of updates and services predicted to debut during the event.
A range of operating system updates took the spotlight, from OS X to the second iteration of Apple Watch platform WatchOS 2. While Apple TV did not get any attention, execs and music industry gurus introduced a new music streaming service poised to rival Spotify.
As predicted, many of the system upgrades involved stability and performance fixes, in addition to updates for many native apps. Here is a snapshot of what we learned today:
OS X: El Capitan
New Mac system El Capitan brings refinement and advancement to predecessor Yosemite. Apple is focusing on performance with this update and promises greater speed for opening and switching applications.
El Capitan has a new Mission Control interface, which can be accessed via three-finger swipe; enhanced Spotlight search feature with more detailed results; and the ability to mute auto-play sound with one tap. It also has split view, so that you can work in multiple windows on one screen.
[10 Smartphone Apps You Can Talk To]
If any of these features sound familiar, it may be because we've already seen them in recent announcements from Microsoft. Windows 8 also has split view, and its new Edge browser features a similar system for muting sound.
Developers have access to El Capitan as of today. Apple execs noted that a public beta will launch in July and free upgrades to the public will start in the fall.
iOS 9
We also learned more details about iOS 9, which will be available on all devices that support iOS 8. Apple's newest mobile OS is now available to all developers with a public beta version promised for July. When the full upgrade is available, you'll only need 1.3GB of free space to download iOS 9.
Prior to WWDC 2015, experts had suggested that ensuring high quality in iOS 9 would be critical for Apple. The latest version of iOS will bring faster speed and prolonged battery life. If you're running low, a new low-power mode will give you up to three hours of charge, execs explained.
Here are a few of the app updates coming to iOS 9 in iPhone and iPad:
Proactive: iOS 9 is getting a Siri update. The digital assistant, which Apple claims is 40% more accurate, will now be more proactive about anticipating and addressing user needs. For example, if an unknown number calls you, iOS 9 will scan your email to make suggestions as to who it might be. An updated Search feature will gauge recent activity and location to pull recommendations for apps, news stories, or contacts. If you get a text with information about an appointment, you'll be able to say "Remind me of this," and Siri will make note of it.
News: Apple's News app will build personalized news feeds to deliver content based on user preferences. Users can select the topics and publications that most interest them and receive new articles each time the app is refreshed. You can save articles to read later or explore new subjects and publications.
Maps/Transit: Apple Maps will now deliver a Transit feature that provides navigation across bus, train, subway, and ferry routes. The Transit capability will first launch in major U.S. cities like New York, Philadelphia, and Baltimore, as well as major cities in China.
Notes: You'll be able to use Notes to write and check off to-do lists, draw pictures, and access images directly from the camera. The app now lets you add links from the Share sheet.
Apple Pay: Apple's mobile payment platform will reportedly be available in more than one million locations by July, said Jennifer Bailey, vice president of worldwide online stores. You'll be able to store debit and credit cards, in addition to rewards cards from participating retailers. The app formerly known as Passbook is now called Wallet.
Multitasking: iOS 9 for iPad will bring new multitasking capabilities. You'll be able to check notifications with a new feature called "slideover," which lets you view and respond to messages with a quick swipe. With multi-app, multi-touch capabilities, you can scroll through notifications and Safari at the same time.
WatchOS 2
Six weeks after Apple Watch first became available, Apple is ready to deliver updates. As of today, a new version of WatchOS will allow developers to create native apps and give them access to Watch features like taptic engine, crown, and microphone. With more native apps, users will have increased options for interacting with their Watch without having to use their iPhone.
Some new features in WatchOS 2 include photo face, which give you the option of choosing a single photo or rotating photo album to use as the watch face. Developers can also make their own Complications, which is different data (think sports scores, home control system) that appears alongside the time. Another addition called "time travel" lets you scroll forward to access information like what's coming up on the calendar or the weather for later in the day.
WatchOS 2 will also let you reply to email, support FaceTime, allow fitness apps to run natively on the Watch, provide mass transit information, support store and rewards cards on Apple Pay, and start workouts via Siri prompt. So you'll be able to say "Go for a 300 calorie bike ride," and the workout app will start recording.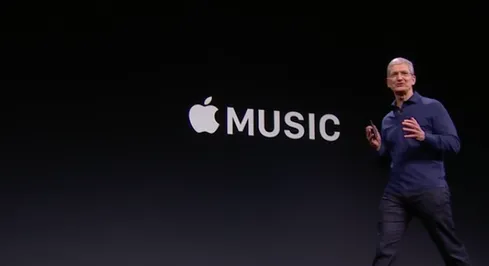 Apple Music
Today's keynotes closed out with the announcement of Apple Music, the rumored product of Apple's partnership with Beats Electronics. The new Music platform combines three different services:
"Revolutionary" Music Service: Apple Music will allow users to stream songs, search for individual songs and artists, and view top songs, music videos and albums. It also makes recommendations for playlists and albums.
Radio: An online radio service will revolve around a 24-hour "Beats One" radio but also include a multitude of live stations curated by popular DJs in the music industry.
Connect: The more social aspect of Apple Music, Connect lets listeners follow favorite artists through the app or social media. Artists can share content like demos, song releases, and mix tapes; followers can respond or share their own messages in return.
Apple Music will be available for $9.99 per month, or $14.99 for a "family plan" that can include up to 6 members. A free 3-month subscription will launch June 30. Also, in a first for Apple, the service will be available on Android devices.