10 Cloud Analytics & BI Platforms For Business
With apps and data headed into the cloud, analytics and business intelligence can't be far behind. Here are 10 options, ranging from simple data-visualization tools to complete cloud suites.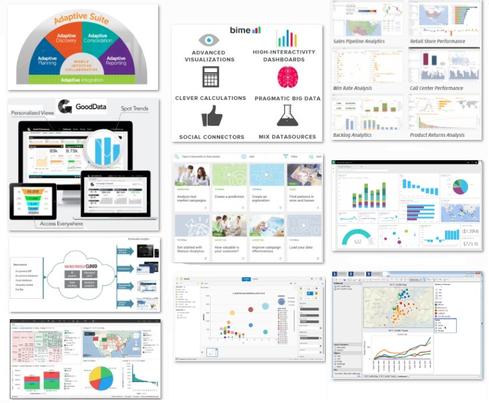 Cloud-based business intelligence arrived soon after the first wave of cloud applications, but several early pioneers -- LucidEra, Oco, PivotLink -- didn't survive. Fears about putting data in the cloud were among the early impediments to success. Now that mission-critical apps and sensitive corporate data are increasingly moving online, it makes sense that cloud-based analytics and BI platforms are gaining customers.
What's the evidence that data is moving into the cloud along with applications? Our InformationWeek 2015 Analytics, BI, and Information Management Survey, for example, finds that cloud-based data warehousing services show the biggest gains in adoption of any information management category, jumping to 34% adoption among respondents, up from just 24% in 2014.
According to "Analytics in the Cloud," a January 2015 report by Enterprise Management Associates, adopters cite time-to-delivery of analytics and BI as primary business motivation for choosing cloud options. Time to value for analytical initiatives and improved agility stand out as the most important technical drivers. Finally, the top three financial drivers behind the move to cloud-based analytics and BI platforms are minimized hardware and infrastructure cost, reduced implementation cost, and reduced administrative cost, in that order.
The options covered in this collection range from complete data warehousing and BI suites in the cloud, like Birst, GoodData, and MicroStrategy, to far simpler data exploration and data visualization options, like SAP Lumira Cloud and Tibco Spotfire Cloud. In between there's IBM Watson Analytics and Microsoft Power BI. You'll also find options favored in big-data circles, such as Bime and Tableau Software, and one option favored in financial circles, Adaptive Insight.
What you won't find in this collection are application-specific platforms like Salesforce Wave and add-ons thereto, like C9. Also excluded were planning- and finance-oriented corporate performance management apps, like Anaplan, Host Analytics, and Tidemark. Advanced analytics products are also absent, although Watson Analytics and Tibco Spotfire Cloud are among the options here that do offer some of those bells and whistles.
Pricing of these services ranges from free -- generally with storage caps and data-source limitations -- to $2,000 per year for a five-user workgroup edition, to hundreds of thousands (or even millions) of dollars for a full-BI-stack deployment with terabyte-scale data warehouses managed in the cloud. Most of these vendors can also help you with on-premises and hybrid deployments, though Adaptive Planning and Bime are the cloud purists here.
Read on for a closer look at data access options, analysis features, and, in many cases, edition and pricing details.
Attend Interop Las Vegas, the leading independent technology conference and expo series designed to inspire, inform, and connect the world's IT community. In 2015, look for all new programs, networking opportunities, and classes that will help you set your organization's IT action plan. It happens April 27 to May 1. Register with Discount Code MPOIWK for $200 off Total Access & Conference Passes.
Doug Henschen is Executive Editor of InformationWeek, where he covers the intersection of enterprise applications with information management, business intelligence, big data and analytics. He previously served as editor in chief of Intelligent Enterprise, editor in chief of ... View Full Bio
We welcome your comments on this topic on our social media channels, or
[contact us directly]
with questions about the site.